Niagara Life Centre will be hosting a 10 week pornography recovery group, called Worthy Reboot: Overcoming Pornography. This group is for men struggling with sexually compulsive behaviours, specifically pornography, and will be delivered through a Christian approach.
For men, aged 18 and older.
Overview of addiction and how it impacts the person and relationships
Overview of pornography addiction
Relapse and Reversion
Identifying emotional triggers
Identifying support systems
Healing and maintaining recovery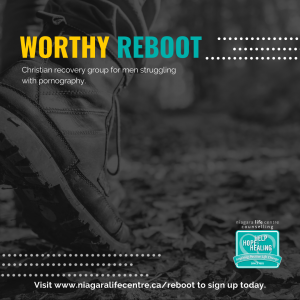 This is a 10 week program, cost being $100 ($10/session), with materials included. Our next program begins on Monday, April 25th, 2022 from 5:45 pm- 7:10 pm. Program will be held in person, in the NLC community space at 65 Lakeshore Road, St. Catharines, ON L2N 2T3.
To register, please fill out the information below. A client in take form will be emailed to the email address you provide. Any questions? Please call the office at 905-934-0021.